About Us Love-Love Tennis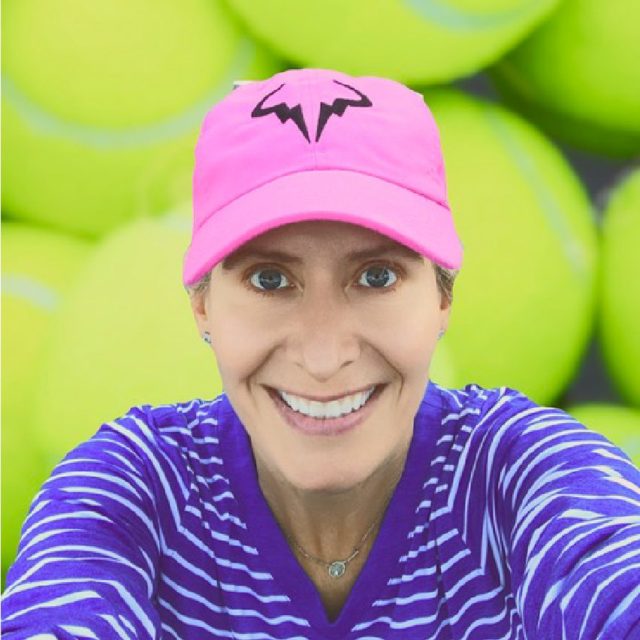 I'm Ruth Dobson-Torres. A North Carolina native, an identical twin, a wife of a handsome Gallego, a modern marketer, a freelance journalist and blogger, founder of Love-Love Tennis, LLC, and, last but not least, a tennis player and fan.
Some of my earliest childhood memories consist of me watching my mother play the game of tennis. I remember the sunny days of the late 1970s, the colors of deep green hard courts and bright yellow tennis balls. I remember the Wilson wooden rackets, the Tretorn sneakers, the camaraderie of friends playing the game, and the enthusiasm of watchers in the stands.
As a teen in the '80s, I held onto my own aluminum rackets, attending tennis camps during summers and playing matches as a member of my high school team. What I remember most when I recall the tennis of my youth is joy.
At the start of my fourth decade, I returned to playing tennis after a 25-year hiatus. And, it was amazing…the joy was still there. Just opening up a new can of tennis balls, with that distinct sound and smell, immediately took me back to that long-held feeling of happiness. Since then, I've realized that I not only love playing and watching the game, but I also love the history of the sport and talking about all things tennis that are happening today. Net-net (pun intended): I love, love tennis.
Love-Love Tennis is a place where I can share my love for the game with you and help promote an inclusive sport that's enjoyed by players and fans worldwide. So, if you're not already in the game, I want you to join me in knowing a sport that's both an individual (singles) and team (doubles/Leagues) sport combined. A fun sport that will challenge you both physically and mentally. A sport that has influenced our global culture in meaningful ways. A sport that has a yoga-like "continual practice" improvement aspect to it, and one that has been linked to better health and living longer.
Love-Love Tennis is the way that I can play my part in keeping the sport of tennis alive and well for generations to come. Ultimately, I want to share the joy.
So, it's Love-Love. Let's get started!